Updated On: 6 Aug, 2018
Suzuki Kizashi
Price

Rs. 5,000,000
Suzuki's Splendid Sedan:
Suzuki has amalgamated class, style, luxury and great features in its mid-sized car Kizashi. This technical splendor was unveiled in the year 2009. It was initially targeted to all global markets including America, Japan, New Zealand, European countries and Australia. Kizashi was Suzuki's maiden mid-sized car to be sold in Australia. In 2011, it ventured into the Indian market and finally now this sensual car, loaded with great features, is making its debut in Pakistan in 2015.
Kizashi aspires to be the flagship sedan under the parent brand Suzuki. Currently, it exceeds the exterior dimension and engine displacement to be found in the "compact car" category according to the regulations of the Japanese government.
What's in the Name?
Kizashi gets its interesting and unique name from a Japanese word, "Kizashi" which means something good is coming, like good sign, omen or a warning.
Kizashi in Pakistan:
This icon of quality and class is making its way to Pakistan this year. On the eve of 11 February, 2015 Suzuki Kizashi was launched in a grand ceremony at Pearl Continental, Lahore. It will be available as an imported CBU—Completely Built-up Unit. There are no plans in the pipeline to manufacture or assemble it locally.
Features, Like No Other:
Kizashi is meticulously designed and houses some extravagant features. Some of the key features that make Kizashi standout include the following:
Sensuous Body:
The exterior exuberates class and finesse in its designing. Designed mainly in high tensile steel, it is light yet very strong. The vehicle has been structurally designed to absorb and dispense impact energy with a deformation resisting cabin assembly. The under-floor strength has been increased to battle the negative impact. The beautiful curves and sleek designing do not only appeal to the eye but also fulfill meaningful purposes.
Powerful Engine:
Kizashi comes equipped with a state of the art and powerful 2.4 liter engine. The machine is specially designed for Kizashi to ensure powerful performance and great fuel economy.
Automatic Lamps:
The head lamps light up automatically and are capable of automatic leveling to facilitate the driver with a good road visibility and reduce the hazards of bad visibility conditions.
Auto Dimming Rearview Mirrors:
With Kizashi, your driving experience will be relaxing and comfortable. The rearview mirrors come with automatic dimming in response to any glare or sharp lights of vehicles behind you. This increases visibility and reduces stress on eyes, so you drive with comfort and luxury.
Keyless Push Start System:
All you need to do to start the exciting experience of driving Kizashi is gently push the start button. It is equipped with the modern technology of keyless start system.
Cruise Control:
Kizashi gives you a comfortable driving experience with its cruise control option. The buttons are placed on the right side of the steering wheel providing you control and ease of use, simultaneously.
ESP (Electronic Stability Program):
Suzuki has paid a lot of attention to passengers' safety with its sedan Kizashi. The EPS system is built in to protect the car from skidding or wheel spinning by applying control directly to the engine and brakes when required. So, in case of an accident or bad road conditions you can count on ESP to aid your situation.
CVT+ Six-Speed Manual Transmission:
Driving has never been so easy. With the CVT Continuously Variable Transmission, the operations are continuously adjusted according to the situation that you are driving in. You can also choose a sport-tuned six-speed manual transmission.
SRS Airbags:
For the safety of passengers in any unfortunate event, there are front & side curtains, and front & rear side airbags which serve as a sound protective measure.
Rain Sensing Wipers:
Kizashi is a smart car in every way as it can sense the driving conditions you are going through. The automated windshield wipers contain rain sensors. Now drive with full visibility and comfort on rainy days.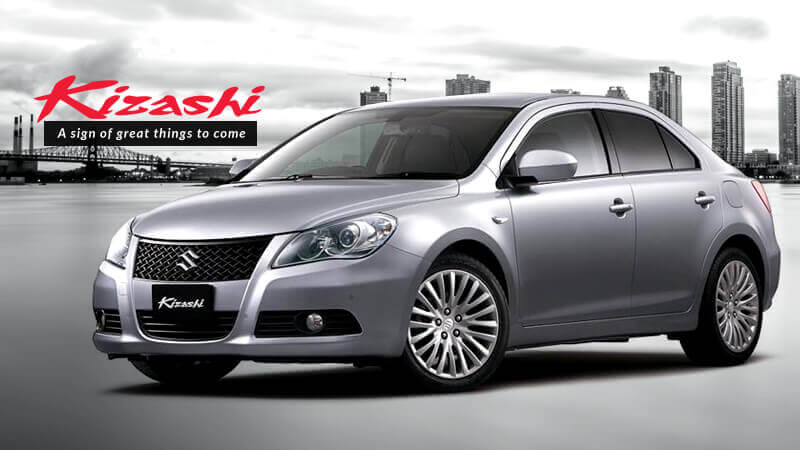 Parking Sensor System:
Another smart feature that makes your driving experience comfortable and worthwhile is Kizashi's parking sensor system. It helps you park safely with front and rear ultrasound sensors, which monitor the space between your car and any obstruction nearby. The alert is given by a beep sound. The length between the beep intervals actually hints at the distance between the car and the obstruction.
Smart Key Option:
With the touch-free smart key option, you can open doors and start you Kizashi without the hassle of taking out and using your keys. It's definitely a smart car for smarter people.
Colors:
The exterior is pleasing to the senses. Designed to perfection this beauty is available in three colors. Take your pick from the three classic appearances, viz. white, black and silver. You can see Suzuki Kizashi pictures to analyze the look of these different colors.
Warranty:
Kizashi comes with a warranty of 3 years or 60,000 km whichever comes first. This speaks volume of its quality and reliability.
Suzuki Kizashi Price:
Suzuki Kizashi Price in Pakistan, at the time of its launch, was fixed at is PKR 5,000,000/-.
Controversies/Problems:
The car has also faced some issues at various times.
Once on June 28, 2010, the company recalled 5,107 cars of the model year 2010. There were some reported failures of the glove box door. It failed to comply with the "Occupant protection in interior impact" FMVSS201. According to which the door should open in case of a crash.
Again on 30 July, 2014, an undisclosed number of sedans were recalled from the model year 2010-2013. The reason was said to be that spiders may weave their web into the evaporative canister. If clogged, there will be build up of unnecessary negative pressure in the fuel tank. This pressure could consequently crack the fuel tank and result in a bigger loss and trigger higher risk of fire.
Verdict:
If you are tired of the same brands introducing new cars with slight modifications and are looking for something entirely new with great features and quality, Kizashi is what you are looking for. Suzuki Kizashi price is a bit more than the other Toyotas and Hondas, but offers great value for money. Equipped with great and modern features, you should surely consider it to be your next car if it falls in your budget window.