Land Crusier Prado 2017 Price in Pakistan - See New Model Pics and Features
Updated On: 21 Mar, 2023
TOYOTA LAND CRUISER PRADO 2.8
Diesel Turbo M/T
Price

PKR 59,109,000/-
TOYOTA LAND CRUISER PRADO 2.8
Diesel Turbo A/T
Price

PKR 67,249,000/-
TOYOTA LAND CRUISER PRADO 4.0
Petrol A/T
Price

PKR 95,579,000/-
The name associated with unmatched excellence and grandeur is Toyota Land Cruiser Prado. After flaunting its elegant style and powerful performance for sixty years, the majestic SUV is still a preferred vehicle among well-off Pakistani buyers. The year 2017 has brought even more luxuries to enjoy through a highly mesmerizing ride in this automobile.
The enormous four-wheeler will lift your social status among all those who see you travelling in this extremely expensive automobile. You would yourself feel like royalty stepping out of this magnificent beauty. Even without taking a look at that stunning metal body, the nameplate is enough to bring deep admiration to the SUV.
The vehicle is meant to perform smoothly on the road as well as off-road. Therefore, an adventurous journey is on your way when you decide to step inside the vehicle. You can feel the power, the energy and the flow of your own adrenaline gushing throughout your body with excitement. The SUV will take you anywhere, be it sandy desserts, rough and broken roads or a rocky piece of land.
These adventures are meant to be shared with your family or a group of lively friends. Toyota Land Cruiser Prado accommodates eight people in its extremely roomy interior. Each one of the passengers receives a treatment worthy of Princes and Princesses through numerous facilities added to the 2017 model. For instance, multi stage heating for the seats gives extreme comfort when it is cold and chilly. Moreover, the rear passengers can enjoy a nine inches screen for watching movies through the excellent DVD entertainment system of the vehicle.
The manufacturers have tried to make the interior as comfortable as possible, taking care of every small feature. For instance, located at six places within the SUV are twelve cup holders. Everyone can, therefore, enjoy their preferred beverage to add to the enjoyment of the journey. You also have the options to fold the second and third row seats to make room of 81.7 cubic feet for your luggage.
Even the driver is not left out of the luxuries and is provided with leather-trimmed steering wheel that has internal heating system. The grip on the wheel will never be lost as it is so comfortable to hold it. Moreover, a multi information display and Bluetooth connectivity for cell phones further makes it more convenient to drive the SUV.
Behind that unparalleled prowess is a 5.7L V8 engine. An optimum output of 381 hp at 5600 rmp can be achieved. On the other hand, the maximum torque is 401 lb-ft at 3600 rmp. The DOHC engine with 32 valves is responsible for giving 13 mpg city mileage and 18 mpg highway mileage. Manufacturers have used latest technology to optimize the engine's functionality through Acoustic Control Induction System and Intelligent Independent Variable Valve Trimming. These extremely impressive specifications are the reason behind a high Toyota Land Cruiser Prado price in Pakistan.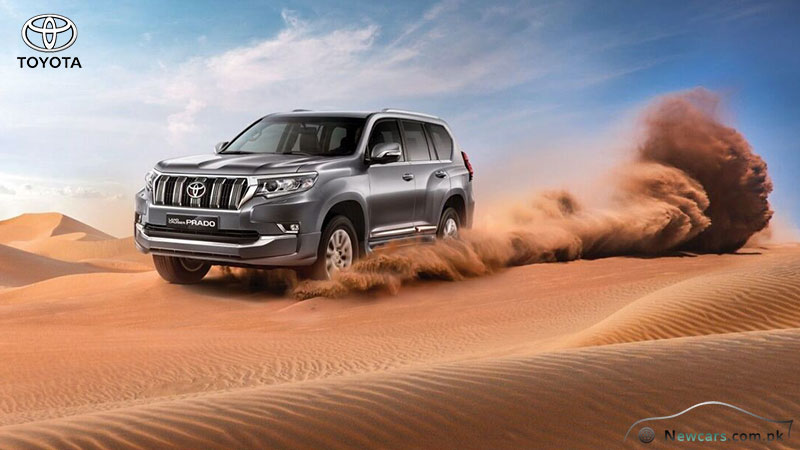 Manufacturers have also given a fair share of attention to the safety system. Traction control, Smart Stop Technology, vehicle stability control, electronic brake force distribution, brake assist and multi terrain anti-lock brake system are six valuable safety features which combine into the Star Safety System of the SUV.
Therefore, even if Toyota Land Cruiser Prado price is extravagant, the vehicle is worth the deal due to its magnificence, safety and performance.