Suzuki Swift - Pictures, Price in Pakistan and Features
Updated On: 18 Mar, 2023
Swift GL
Price

Rs. 4,052,000
Swift GL (CVT)
Price

Rs. 4,355,000
Swift GLX (CVT)
Price

Rs. 4,725,000
Suzuki Swift is a chic hatchback which has been gaining immense popularity for last one year owing to its revamped appearance and newly added advanced features. Interestingly, Swift's nameplate had been used for Suzuki Cultus previously in some international markets, such as Australia, India and Europe.
The Latest Model
The year 2023 brought numerous improvements for this car, giving it a more stylish look and equipping it with additional up-to-date features. In 2023, the same specifications continue to attract car buyers, but there hasn't been any prominent modification in this period.
Five Latest Versions
Currently, in the Pakistani automobile market, there are the following five available versions of Suzuki's Swift:
Swift GL
Swift GL (CVT)
Swift GL (CVT) Limited Edition
Swift GLX (CVT)
Price Factor
As far as the Suzuki Swift price in Pakistan is concerned, Suzuki Navi with automatic transmission system is the most expensive one, costing the buyers nearly one and a half million. On the other hand, Swift 1.3 DXL version is the least costly one with a price of slightly more than a million. In Pakistan, the Suzuki Swift price is extremely economical. Small families can take the advantage of this reasonable cost and bring the upgraded version to their house.
1.6L Engine with 5-Speed Transmission
The models of Swift having automatic transmission operate at 4-speed transmission levels. However, the manual versions have a 5-speed transmission system. The other basic specifications are almost the same for both of these. The engine powering up the car is a 1.6L VVT, also known as M16A. The maximum power that can be generated by this engine is equal to 136 hp along with 6,900 rpm and a torque of 118 pound-foot.
195 km/hour Speed
The Swift with manual transmission can attain an optimum speed of 195 km/h. On the other hand, the top speed for the automatic version is 185 km/h. Both of these models can speed up from zero to a hundred kilometers per hour in precisely 8.7 seconds. Therefore, Suzuki Swift 2023 is a delightfully responsive vehicle as far as its acceleration is concerned.
Additions to Sporty Look
The exterior of the car was given a new chic look last year in order to make it appear fairly distinguished from its rather boring predecessors. This recent facelift includes a remodeled bumper with a set of jazzy headlamps as you can see in the Suzuki Swift pictures. The rear has also been reshaped to complete the car's sporty look. This modified car is the third generation of Suzuki's Swift.
Roomy & Comfortable Interior
The car has a pleasant and roomy interior with comfortable seating. Despite the fact that it is only a small hatchback, the leg space is also sufficient for three passengers at the back. Your luggage also gets a decent amount of space in the boot.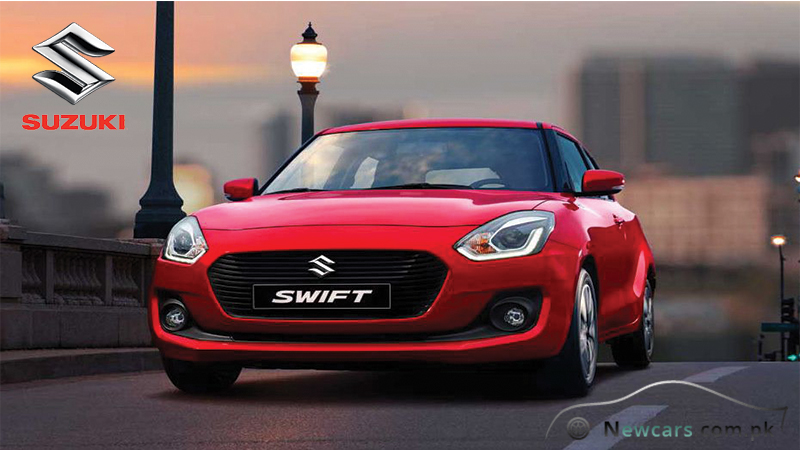 43-Liter Fuel Storage
The fuel tank of the car can accommodate up to 43 liters of oil. This storage combines with the efficient fuel expenditure of the vehicle to make the fuel last longer enough for the accomplishment of long-distanced journeys. Plus, you also save money on fuel due to its comparatively little consumption.
Bottom Line
At an economical price, you can give your family a car which is comfortable along with good safety features. Enjoy your trips in this stylish car with its appreciable performance and outstanding Suzuki Swift features.