Updated On: 19 July, 2018
Corolla Gli 1.3L 2017 Price in Pakistan
Price

Rs. 1,784,000
Corolla Gli A/T (1.3L) Price in Pakistan
Price

Rs. 1,859,000
Toyota Corolla Gli combines comfort, luxury and style together to bring you one of the top selling cars for your family. The new 2017 model has retained many of the features of its previous version, but has also brought some pleasant changes. Slight variations to the exterior design, a powerful engine and several luxury features are the highlights of this popular vehicle by Toyota.
This amazing new model brings luxury to you in many forms. Be it the comfortable interior of the car or the entertaining multimedia facility, Corolla GLi will keep your satisfaction levels high when you take a ride in. The Toyota Corolla Gli price seems quite reasonable for all the comfort and luxury you get through this impressive vehicle.
The availability of headsets for the rear seats is an additional luxury feature which lets all the passengers enjoy a long journey. Moreover, comfortable seats and sufficient leg space also make Toyota's new product a perfect vehicle for long distance travels.
Since it is a very suitable vehicle for your whole family, safety must be a great concern for you. You can relax as Toyota has incorporated state-of-the-art safety features in Toyota Corolla GLi. The new 2017 model is, therefore, not only comfortable but also safe for your family members. For instance, anti-lock braking system and headrest for lessening the whiplash injury are two very important safety measures.
The elegance of the car starts right from its front where an impressive grill sits, imparting a look of sophistication to the car. This is also where Toyota's logo has been placed by the manufacturers. Furthermore, adding more elegance to the front of the car are stylish headlamps which look attractive due to their sleek design.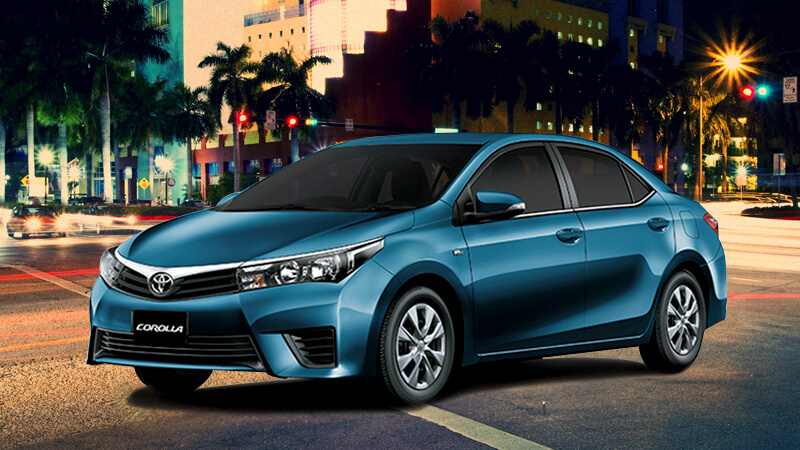 Moving along the streamlined body of the car towards its rear, you will find its crystal tail-lights which give the vehicle a sophisticated look at the back as well. Moreover, like most other high class vehicles, it also maintains the fascinating appearance both inside and outside. In other words, the interior of the vehicle looks just as impressive as the exterior. For instance, the upper interior looks really elegant with its dark grey tinges.
The car's automatic controls not only make it more fuel efficient, but also more advanced among rivals in the market. Potential buyers are going to opt for Toyota's GLi car for its electric power steering which gives a smooth and convenient drive. Plus, other features like anti-jam power windows also raise the value of this vehicle. Such advanced features make it a perfect vehicle for 2017. Plus, its economical consumption of fuel keeps the car easy on your budget. At the same time, it can also be ranked as an environment-friendly vehicle which consumes fuel efficiently.
So, if you are looking for a car which can offer you a package full of advanced features, safety, luxury and style, 2017 model of GLi is just what you need. An economical Toyota Corolla GLi price makes it even more suitable for all potential buyers.