Updated On: 19 July, 2018
Camry UP-Spec A/T Price in Pakistan
Price

Rs. 10,949,000
Among all medium-sized vehicles available in the market, Toyota Camry is famous all over the world with its Sedan type body. Camry made its debut back in 1982. Since then, several remodeled generations have been brought to the market year after year by Japanese manufacturers. At present, the Toyota Camry new model is the most advanced generation of the automobile, offering both manual as well as automatic transmission systems.
The car is available in international markets in four basic trims: L, LE, SE and XLE. Toyota Camry price varies with the respective trim, while increasing from L to XLE.
Impressive Performance
Toyota's Camry brings you an impressive performance with its 268 horsepower engine. On the other hand, the hybrid version of the vehicle produces 155 horsepower with its Atkinson cycle engine having 4 cylinders.
It is more exciting when this power is combined with the hybrid's electric motor, making the horsepower take a leap to an amazing 200.
Agility and Responsiveness
Camry's smooth running can be credited to the perfect suspension system of the car. Moreover, all premium quality components, including sway bars, springs, shocks and a sensitive power steering contribute towards making the vehicle more agile and responsive.
Extreme Reliability
Statistics have shown that ninety percent of different generations of Camrys, sold over the past ten years, can still be seen running on the roads as smoothly as ever before. This statistical evidence sheds light on the fact that Camry is, indeed, an extremely durable and reliable car.
Long Life
With the best quality components, Toyota Camry has the potential to give you good quality performance for many years to come.
Enhanced Luxury
Luxury has always been associated with Camry. In the latest 2017 model, the level of this luxury has been enhanced manifolds as you can see in Toyota Camry pictures.
Great Entertainment
Premium upholstery does not only add to the beauty of the car's interior, but also gives you the extreme comfort. Plus, features like multimedia, Bluetooth connectivity, climate control, Entune voice recognition and other technological marvels are available to you in the car to make your trip as convenient, fascinating and luxurious as possible.
Moon Roof and Sunshades
You can always enjoy a ride in the car with the power moon roof. Sunshades are also available which can be slid over the moon roof during a sunny day.
Tranquility
Manufactures have gone one step further in bringing you the most comfortable interior with perfect quietness and peace. Proper sound imaging tools have been used to find out all the sources of noise in the car in order to take proper measures for sound absorption.
Best Safety Measures
After taking every care of the luxury and comfort, manufacturers also gave full importance to your safety. In fact, Camry has the highest rating for side crash test, proving its top-notch safety features. The vehicle has been designed to protect the passengers against all sorts of accidental happenings, including side impact, rear impact as well as rollovers.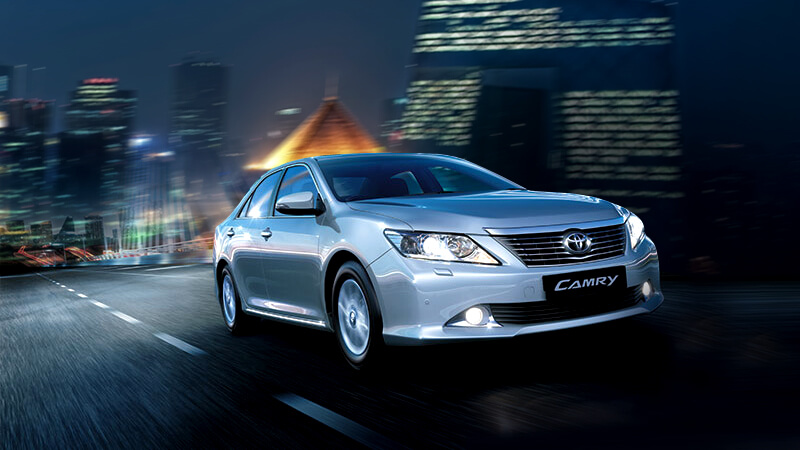 Bottom Line
Camry offers you the best of everything: performance, reliability, comfort and safety. It is a stylish mid-sized car which promises a smooth and comfortable journey. Toyota Camry price in Pakistan seems reasonable after assessing all of its excellent features.